Cavalier Centre welcomes new Trustee: Kelda Wood, MBE
Cavalier Centre welcomes new Trustee: Kelda Wood, MBE – Britain's first para rower to cross the Atlantic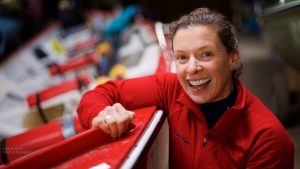 Kelda Wood, MBE has joined Shropshire's Cavalier Centre as a member of the Board of Trustees.
Kelda Wood, MBE is a former GB Para-Canoeist, the first para-rower to solo row over 3,000 nautical miles unsupported across the Atlantic. She's also Founder of Climbing Out, a charity focused on helping rebuild confidence and self-esteem in people facing life changing injury, illness or trauma.
The Cavalier Centre is a fully accessible state of the art equestrian facility located just outside Much Wenlock, in the beautiful Shropshire countryside. The centre offers inclusive horse-based activities such as riding, carriage driving, vaulting (gymnastics on horseback), hippotherapy (physio on horseback) and horse care, all supported by a wonderful army of volunteers.
Kelda's passion has always been with horses and her goal was to ride for her country and represent Great Britain at the Olympics. Unfortunately, after a serious leg injury in 2002, Kelda's hopes of competing at an international level seemed to have disappeared. The leg injury had a huge impact on her life, leaving her no longer able to run or play many of the sports that meant so much to her.
And now she brings that wealth of experience, and love for equestrianism to the Cavalier Centre. Her unique understanding of people, overcoming challenges and using physical activity to boost mental health will be a huge asset to the Centre as it continues to grow and serve more people in Shropshire.
The Cavalier Centre's programmes are diverse and inclusive. Along with RDA Riding, Carriage Driving and Vaulting, the Centre offers Stable Relationships – an intensive 1:1 Emotional Intelligence Course, STEPS – an eight-week life skills and confidence building programme, as well as a range of bespoke events and activities.
Key to the success of the Cavalier Centre is collaboration and partnership. The appointment of Kelda Wood is an additional way in which the Centre can extend its reach further into the community and partner with a wide variety of different organisations to work with even more participants and empower people with a diverse range of needs. Working in partnership allows the Cavalier Centre team to join people on their learning journey with horses and work with them to achieve their goals and ambitions – wherever they may lead.
Selina Graham, the Cavalier Centre's Chair of Trustees, said: "It's the people behind the Cavalier Centre that make it such a success and we're so excited to have Kelda join us as a Trustee. Her experience and knowledge – both of people and horses – will bring a fresh perspective and focus that will benefit our participants, our volunteers and our team. I believe so strongly in collaboration, and sharing best practice, and really hope that we can learn so much from each other, and better serve all our participants by working together."
Kelda Wood, MBE, said: "I've always loved horses for as long as I remember. My injury meant that my career went in a different direction to the one I was expecting, so I'm thrilled that – years later – I can get involved with the equestrian world once again at the Cavalier Centre.
"I'm hugely passionate about using physical activity and its positive impact on mental health and wellbeing and horses have an amazing ability to meet people where they are, and encourage them to reach their potential. The team and volunteers at the Cavalier Centre are amazing and I'm so happy to play a part in developing the Centre for the future."
Sign Up To Our Newsletter
Join the Cavalier Centre grapevine and be the first to hear about news and events