October 8, 2022: Equine Car Boot Sale
When? 08/10/2022 @ 10:00 am
Where? Cavalier Centre, Much Wenlock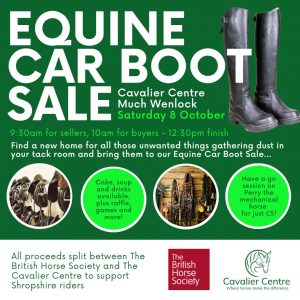 Saturday 8 October 2022
10 am – 12.30pm
No space in your tack room for any more rugs? Don't know what to do with those boots/numnahs you no longer use? Find a new home for all those unwanted things gathering dust in your tack room and bring them to our Autumn Car Boot Sale.
Sellers set up from 9.30am, doors open to buyers from 10.00am. Finish at 12.30pm.
Sellers £10.00 per car
Buyers – entry free, donations appreciated
Raffle and refreshments available
Ever wanted to try a mechanical horse? Well you can! 'Have a go' short session on Perry the mechanical horse for just £5.
Proceeds from this event will be split between The British Horse Society & The Cavalier Centre RDA in support of Shropshire riders
Book a table and find out more here: https://www.bhs.org.uk/events/local-events/autumn-equine-car-boot-sale/
Sign Up To Our Newsletter
Join the Cavalier Centre grapevine and be the first to hear about news and events