Finding Peace with Ponies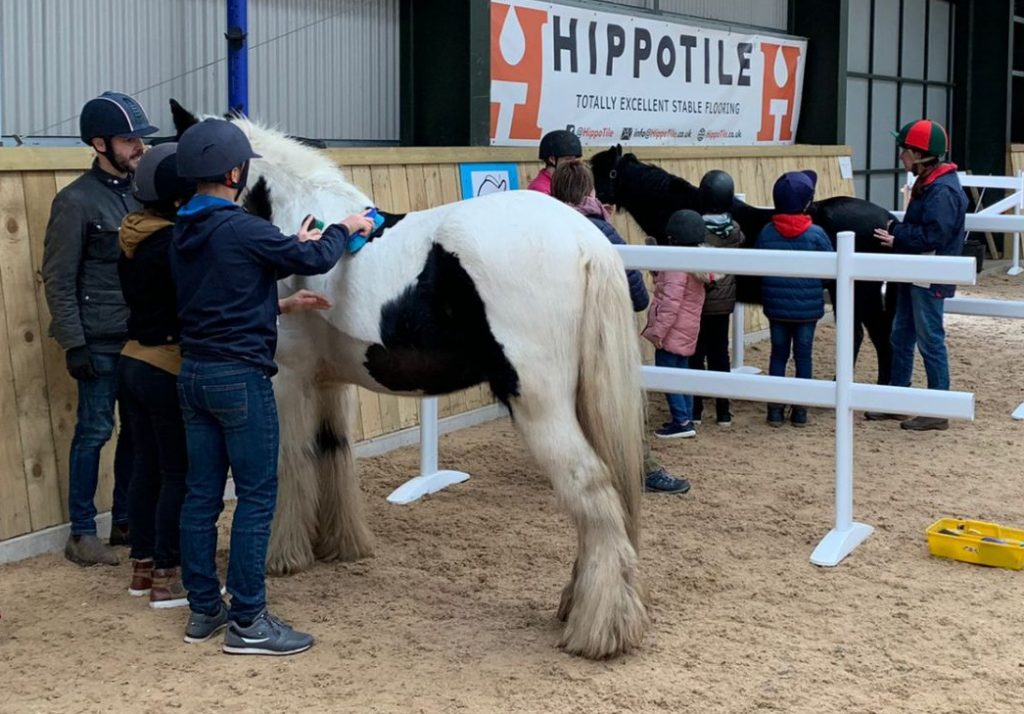 On a chilly and sunny Saturday afternoon, a minibus pulls up to the Cavalier Centre in the middle of rural Shropshire and six young kids between the ages of four and ten jump out. They laugh and run around – excited to meet the horses and ponies. Their joy is infectious.
But behind the happiness is a history that makes this laughter special.
Because just over three years ago, these children fled the bombs and war of Aleppo, Syria with their parents, to seek safety in the UK as refugees.
They brought with them the few bits and pieces they could carry and the special things they didn't want to leave behind. They also brought with them trauma, loss, grief and the unspoken pain of displaced people. And now they find themselves, along with their families, starting over in a new country with a different language, different climate and different culture.
It's hard enough to picture what that would be like. We see ourselves as parents and adults and imagine how it would feel to leave everything we hold dear – chased out by conflict and strife.
But we don't often imagine what it would be like to do that as a child.
The children of refugees don't always understand why they have to leave. They often have to bear the burden of the massive change in their families lives – sometimes being the ones who end up as their family's translators, because they pick up English more quickly than the older ones. They take on the vicarious trauma of their adult carers and don't always have the capacity to understand why.
It can be a lonely, bewildering experience, coupled with an ache for what went before.
The good news is that there are people and places where they can just be kids again. Where they can put their past to one side for an hour or two and enjoy simple fun and find comfort. And one of those safe places is with the horses, ponies and volunteers at the Cavalier Centre in Much Wenlock, Shropshire.
For three consecutive Saturday afternoons, this group of children is taking part in At Home With Horses, a unique programme set up to help these little ones gain in confidence, spend time with horses and spread their wings in a beautiful countryside setting.
Often they are nervous on their first visit and apprehensive around the animals. They are on the edges of their comfort zones.
But with time, patience and kindness, the volunteers work with the kids to show them how to care for the ponies. They learn to groom the horses, lead them from their fields and on the last week, take a ride on them.
The journey is a simple one, but can be transformative.
It might not be obvious at first sight, but time spent with the horses can help bring a moment or two of peace. Sometimes you see the difference in a young boy's face as he finds comfort in the brushing of a horse's mane. His face will soften slightly and his eyes will rest. He will breathe a little more easily and learn to be in the moment.
And for that moment, he can forget and be a kid again.
Rachel Lambert-Jones, the Cavalier Centre's Manager, has seen these little moments of transformation many times. She believes that there's something about being with horses that settle the emotions and allow children – and adults – to free themselves from their thoughts.
"Horses are incredibly emotionally intelligent animals", she says, "and they somehow know what we need, before we do. Seeing these kids, who can't easily express how they're feeling, find joy and happiness with the horses makes our jobs as volunteers and helpers, so rewarding. It's wonderful to watch the kids being kids again."
Organised in collaboration with the grassroots charity Shropshire Supports Refugees, the programme has worked with dozens of kids over the past year. The charity's CEO, Amanda Jones, has been amazed to see the difference it's made in the lives of the children and their families. She said: "Honestly, I knew the kids would love it, but I didn't think it would become such an important piece of their lives. They really benefit from the time at the Cavalier Centre, and the horses just seem to know what they need. It's really incredible."
Supported by the Tackling Inequalities Fund of Sport England, this pioneering work has become a key part in the activities offered at the Cavalier Centre
Sign Up To Our Newsletter
Join the Cavalier Centre grapevine and be the first to hear about news and events