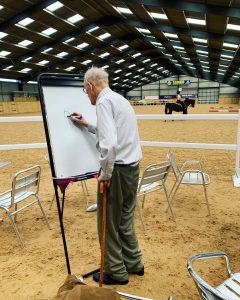 A group of four elderly people from our local care home came for Tea With A Pony. They loved watching the RDA Riding Sessions taking place and enjoyed the usual tea and cake we provide to welcome them. There were two men and two women. The women were chatting happily together with their carers, and the two men say quietly observing all around them.
One of the carers asked if they could borrow our white board (which we use for notices etc.) We agreed – but were unsure why. It became clear though when one of the men, who is dealing with dementia in his senior years, stood and started to draw on the board. Apparently, in his younger years he was an accomplished equestrian artist. And now, as the years have taken their toll, finds solace in once again drawing horses. He had a lovely time – and thoroughly enjoyed himself.
The other gentlemen was very quiet and said very little. Frail, a bit withdrawn, and also suffering from dementia, he watched the ponies with avid interest.
When the session came to an end, the leaders brought the ponies over to where the Tea with A Pony participants were having tea, so they could give them a pat and a cuddle. The very quiet gentlemen, who had said only a couple of words, stood up with the help of his carer. He stroked the pony, and then very clearly looked at me and asked for a brush. I got a grooming kit and handed him a body brush. He slipped his very gnarled and bony hand into the brush in a very confident way and started brushing the pony's face and neck with strong and purposeful strokes. He immediately started talking very animatedly about how he used to be a stable boy and then groom, how well trained our horses were, and shared some of the stories of his youth.
It was like watching the clock roll back in time as the memories came flooding back.
His carers were amazed and emotional. Apparently, he hadn't left the home in three years because of COVID and also bad motion sickness, but due to the change in his medication, it was the first time he'd been able to take part in off-site activities. Seeing him animated and talk about his past was very new to them and brought tears to their eyes.
And that's really the power of Tea with a Pony – to reach into a brain that has been taken by dementia, and bring back memories and emotions that have been long buried. The power of touch and smell can be very healing – even just for a few minutes.
Sign Up To Our Newsletter
Join the Cavalier Centre grapevine and be the first to hear about news and events