RDA National Championship 2023 Results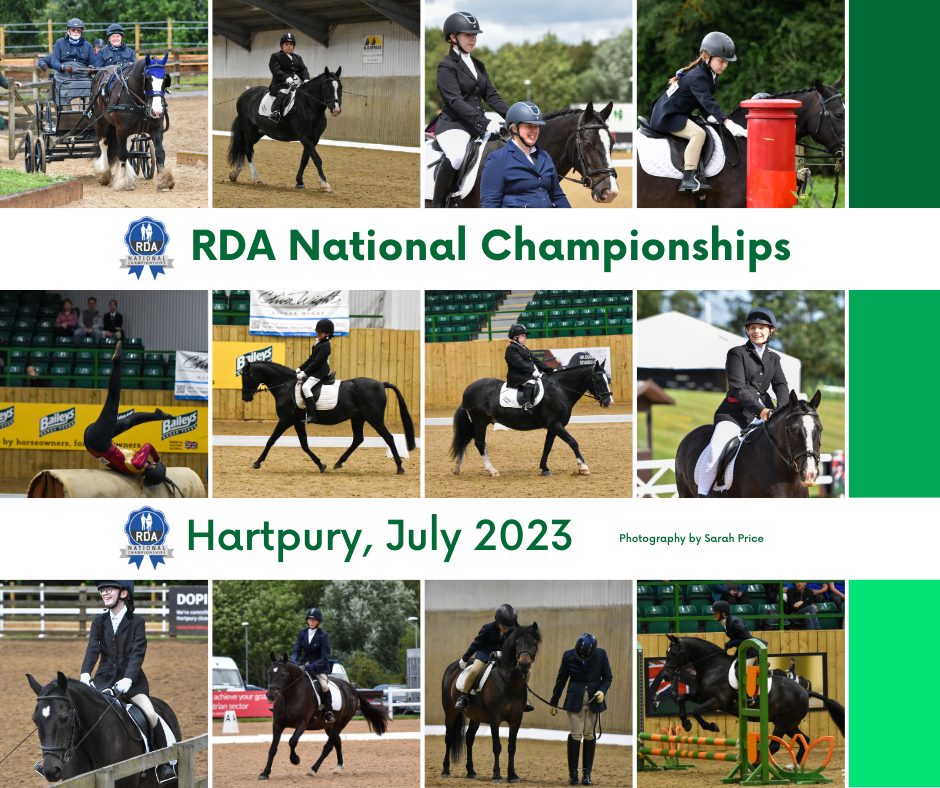 What a weekend it was at the RDA National Championships!
Here are the full Cavalier Centre results:
Friday
Class 1 Novice Carriage Driving: Peter Higgins –  Total 224.05 4th place
Class 9 RDA Showjumping Level 3: Alison Moore – 74% 3rd place
Class 21 Intro to Dressage Walk & Trot Led: Maevie Toole – 66.75% 8th place
Saturday
Class 48 Vaulting Individual Pre-Novice Compulsories/Barrel Freestyle: Blossom Burton – 6.15 mark 1st place
Class 54 Dressage Freestyle: Georgia Halliwell-Paget – 66% 4th place
Class 57 Dressage Championship Grade 6: Blossom Burton – 62.2%
Class 57 Dressage Championship Grade 6: Dennie Neal – 70.27% 2nd place
Class 57 Dressage Championship Grade 6: Georgia Halliwell-Paget – 65% 4th place
Class 61 Dressage grade to Canter: Alison Moore – 65.29% 3rd place
Class 73 Best Turned Out: Blossom Burton with Sion – 88.5 mark 2nd place
Class 73 Best Turned Out: Georgia Halliwell-Paget with Heston – 88 mark 3rd place
Sunday
Class 81 Dressage Grade 1: Jacqueline Doughton – 69.76% 5th place
Class 91A Dressage Grade 7 Walk & Trot Juniors: Lilia Toole – 69.28% 8th place
Class 95 Dressage Freestyle Grade 1: Jaqueline Doughton – 70.35% 2nd place
Class 101 Countryside Challenge: Ruby Smith – 81% 7th place
Of course, these results don't actually recognise the huge achievements of the riders in a very large and competitive field. Each one of them was amazing and should be proud of how well they represented themselves and the Cavalier Centre. We're very proud of them all.
Naturally we want to say lots of thank yous: to the participants and their families, to the volunteers over the weekend – both at Hartpury and back home, to the coaches, to those who cleaned, bathed and prepped the ponies, to the people who cleaned and polished the tack, to the cake bakers and providers of spotty neckerchiefs, as well as to all the many and varied supporters. And of course, to all our session volunteers throughout the year that helped participants to achieve their goals and reach the national championships!
We're also so grateful to our participant, volunteer and Cavalier Centre photographer Sarah Price Photography. Thank you Sarah.
We'll let you know when official RDA photographs are available.
Sign Up To Our Newsletter
Join the Cavalier Centre grapevine and be the first to hear about news and events