Taking STEPS along the way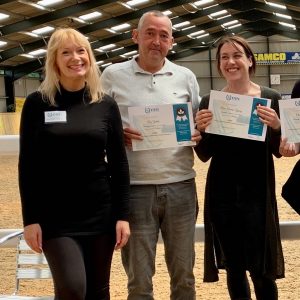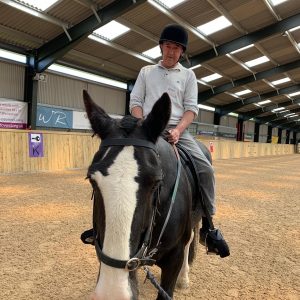 Photographs from the first STEPS Celebration and Coffee Morning
"I've started to get my confidence back and realise that people do like me and I can get over my fears." Those are the words of James, a participant in the STEPS programme at the Cavalier Centre.
And he's not alone in finding STEPS transformative. His fellow participant Sarah adds: "I'm currently four and a half months sober (the longest I've ever managed) and the STEPS programme has been a huge part of making my journey bearable."
These are the unprompted testimonials from two of the latest cohort of participants in the newly launched STEPS programme. Funded by the National Lottery, this transformative eight-week course, uses horses and ponies, along with classroom-based activities, to build confidence and life skills in those who are wanting to get back on their feet after some kind of setback.
Lynette Fryer, the programme's coordinator, works with the people on the course to explore areas around self-awareness, equine behaviours, personal wellbeing and horse care. And alongside the classroom learning (and greatly loved by the people taking part) is the work they do with the horses at the Centre. They learn to lead horses and ponies, to groom them, and tack them up ready for riding.
This all leads to a final celebration event when they can have a professional riding lesson if they want. The smiles on that last day are electrifying and contagious. And the sense of achievement they feel is profound.
Lynette says: "It's amazing to watch the people taking part in STEPS learn and grow over their time here. When they first arrive, they are often nervous and a bit withdrawn. But gradually they learn to trust and begin to realise they have lots of offer and can gain new skills, and it's then that their confidence grows."
The STEPS programme grew out of another Cavalier Centre initiative that worked with people who had been out of work for an extended period of time. It was developed to help people's general wellbeing, as well as their confidence. Experience has shown that working with horses in this structured way helps with mental health and personal development, builds calmness and self-awareness, develops resilience and self-care along with reducing anxiety and stress.
"Everyone who's involved in delivering the STEPS programme is humbled by the participants' feedback. We know there is something about working with horses that's hard to describe," says Lynette.
"There's something intangible that happens when humans and horses meet. There's a mutual understanding that's unspoken, but often can help someone understand that they're valuable and have something to give. Horses seem to bring out the confidence and humanity in someone who may feel very vulnerable."
The programme takes eight-weeks to complete and comprises 2.5 hours sessions and is funded by the National Lottery's Big Community Fund. To find out more, drop Lynette an email at [email protected]
We've changed the names of the participants to protect their identity.
Sign Up To Our Newsletter
Join the Cavalier Centre grapevine and be the first to hear about news and events