Vaulting Demonstration April 30, 2022
When? 30/04/2022 @ 3:00 pm
Where? Cavalier Centre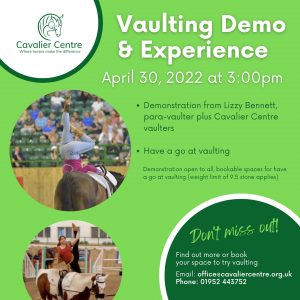 Join us for a demonstration at 3pm on April 30th, 2022 by the amazing para-vaulter Lizzie Bennett, along with some of our own talented vaulters who will be able to show you more about this fun interactive activity.
Vaulting is often described as gymnastics on horseback and can range from sitting hands free to performing balances and rolls for the more experienced. It is a fantastic activity for young people to improve, strength, balance and flexibility as well as being sociable and fun.
Our plan is to return to weekly Wednesday evenings at 5.00pm which will be bookable on our ECPro system. Meanwhile however this Event on Saturday April 30th at 3.00pm is free and open to anyone who would like to come and learn more about the sport.
There will also be an opportunity to have a go (weight restriction 9 ½ stone) – if you would like to put your name down to have a try please email [email protected] or phone 01952 443752
Sign Up To Our Newsletter
Join the Cavalier Centre grapevine and be the first to hear about news and events