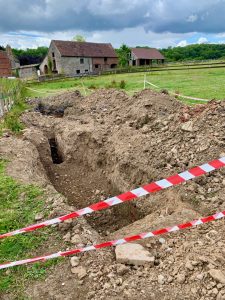 To reduce our impact on the planet and make better use of the resources we have on site we plan to use water from the land to feed the field troughs. Water is currently collected from French drains in the fields and piped away. Our plan is to pump the collected water to the troughs and rely only on mains water if our own supply runs dry.  
This work involves digging trenches and laying pipework which we hope to have completed by the end of the summer. We're always looking for ways to be more environmentally friendly.
We're Community Allies of Much Wenlock's Plastic Free Communities campaign which is organised by Surfers Against Sewage and a Refill site where water bottles can be filled for free. We've also worked with our friends at Shrewsbury Cup who sourced reusable plastic cups to replace single use disposable cups used for events etc.
Sign Up To Our Newsletter
Join the Cavalier Centre grapevine and be the first to hear about news and events