Welcoming our new Volunteer & Participant Coordinator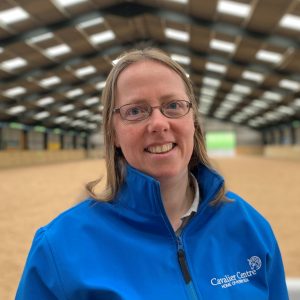 We're very happy that Jane Johnson has joined us as our new Volunteer and Participant Coordinator.
Jane started riding at four years old and volunteered at a local riding stable as a teenager and she's very much enjoying being around horses again after a gap of several years.
She's a qualified secondary school geography teacher and has two decades in the education sector: 10 years working for the Field Studies Council teaching geography fieldwork and 10 years in schools as a geography teacher. Directly before joining the Cavalier Centre she spent a year and a half as a civil servant within the Department for Work and Pensions.
Jane says: "I'm really looking forward to getting to know all the great people at the Cavalier Centre – both volunteers and participants, as well as the horses and ponies. It's such a big change from being in a government office to working in a beautiful rural setting and a real privilege to be involved in the work of the Centre.
Welcome Jane – we're really happy you're here!
Sign Up To Our Newsletter
Join the Cavalier Centre grapevine and be the first to hear about news and events