15th February 2023 Retraining of Racehorses FREE North Wales and Shropshire Social evening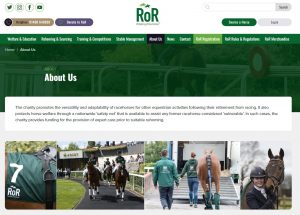 A social evening with a lecture from Zoe Davies, "Feeding the RoR horse out of training"
Including a chance for discussion about activity in the region and planning events for 2023. I'm so pleased to bring the depth of knowledge and experience not just in nutrition but equine biology and science of Zoe Davies to the RoR membership.Zoe stands out as she is one of only a few Registered Equine Nutritionists (R.Nutr) with the Nutrition Society of Great Britain she operates under a strict Code of Conduct. Only suitably scientifically qualified and experienced nutritionists are accepted on to this register. She is also the author of a number of books, some I'm sure you may have read.
Zoe works with a number of racing yards offering advice and support to trainers and stud managers along with the non racing world so is the perfect person to offer advice from both perspectives.
Booking details coming soon!
April 1, 2023: Equine Car Boot Sale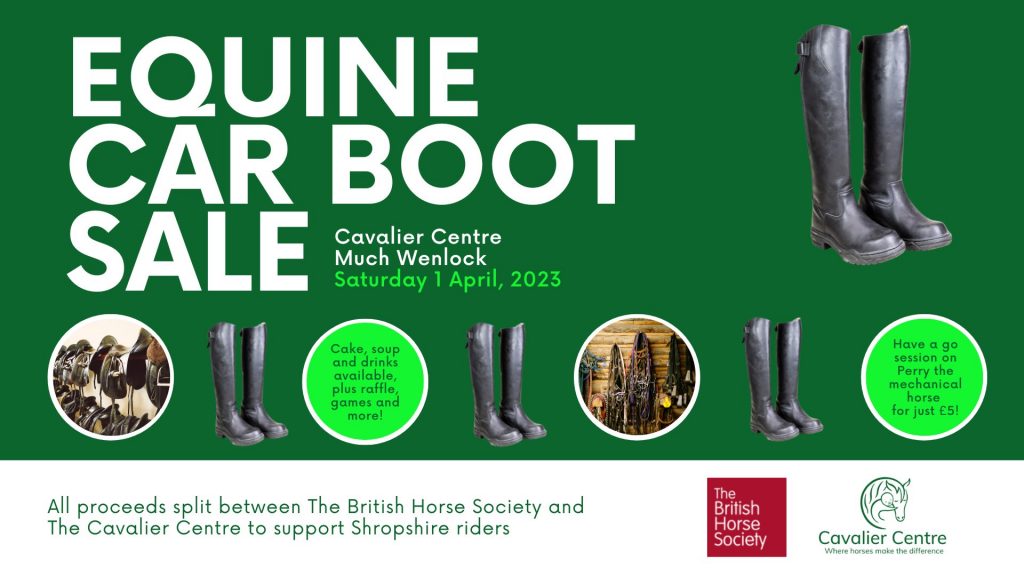 Saturday 1 April 2023
10 am – 12.30pm
No space in your tack room for any more rugs? Don't know what to do with those boots/numnahs you no longer use? Find a new home for all those unwanted things gathering dust in your tack room and bring them to our Spring Car Boot Sale.
Sellers set up from 9.30am, doors open to buyers from 10.00am. Finish at 12.30pm.
Sellers £10.00 per car
Buyers – entry free, donations appreciated
Raffle and refreshments available
Ever wanted to try a mechanical horse? Well you can! 'Have a go' short session on Perry the mechanical horse for just £5.
Proceeds from this event will be split between The British Horse Society & The Cavalier Centre RDA in support of Shropshire riders
Booking link: https://buytickets.at/thebritishhorsesocietyshropshire/833107
Coming soon – Silent Auction
Watch this space for information – a group of lovely people are putting together a 2023 Silent Auction in aid of the Cavalier Centre. Running from late March next year, there will be all kinds of things to bid on, including experiences as well as items donated by local businesses. We'll keep you updated in the new year…
Congratulations to our STEPS participants!
We have just completed another successful STEPS Wellbeing & Confidence Building Programme, which is funded by Reaching Communities – National Lottery.  This time around we worked with 12 participants during the 8 week programme where they all enjoyed learning about our ponies, the centre, RDA, horse care and wellbeing. Also between them they have completed a total of 23 RDA Online Horse Care Qualifications.
To celebrate completion we gathered together the steps participants with their friends and families and also invited local organisations by holding a festive event with horse riding lessons in the main arena.  This was accompanied with festive music, homemade bakes, mince pies and lots of hot drinks to keep everyone warm!  Check out the photos to see what we they have been up too.
Cavalier Christmas
As we head towards Christmas, we're very aware of the multiple competing events and priorities everyone has. That's why this year, we've decided NOT to hold a Christmas event on Saturday 17th December, and instead have a celebratory week instead.
So from next week, for all the sessions, there will be mince pies and cake, as well as hot drinks available for everyone to enjoy. You'll be able to make Christmas wishes and attach them to our tree, give carrots to your favourite horses and more. And don't forget there will be raffle tickets for sale in case you want to win a Christmas hamper.
We stop regular sessions from Monday 19th December, but until then, we look forward to seeing you and celebrating the festive season!
Raffle to win amazing Christmas Hampers!
Have you picked up your raffle tickets to win one of THREE incredible prizes? The first is a Christmas Food, Wine and Cake Hamper, the second prize is a Warm and Cosy Hamper and the third is pies from Ryans of Much Wenlock.
Tickets are £1.00 each and available from the Cavalier Centre. The draw takes place on December 17th, so don't delay. You've got to be in it, to win it!
All proceeds will go towards replacing riding hats that need to be retired due to updated safety legislation.
Save the date – events for 2023 (so far…)
We wanted to let you know about some forthcoming dates in 2023, so you can put them on your calendars. They are:
January 11th, 2023 at 6:00pm
A talk about the Retraining of Racehorses – information at https://www.ror.org.uk/training/63488
February 11th, 2023
Side saddle clinic on the mechanical horse – information either by Facebook message "Rachael Forkings Side Saddle Instructor" or her email [email protected]
March 18th, 2023
Volunteer thank you – information to follow
March 2023
There's going to be an online auction in aid of the Cavalier Centre. Please get in touch if you can donate an experience or prize.
April 13th, 2023
Dressage to music with Nick Lawson – information to follow
Much Wenlock Christmas Fayre 2022 – thank you!
A huge thank you goes to all the amazing volunteers who staffed our stand at the Much Wenlock Christmas Fayre on December 3rd. It was a packed and busy day and along with raising some much needed funds for the Centre, we also made sure that everyone who passed by got to hear about the wonderful work that goes on with our horses and our humans. Thank you!
Sign Up To Our Newsletter
Join the Cavalier Centre grapevine and be the first to hear about news and events