Our volunteers win the Kings Award for Voluntary Service!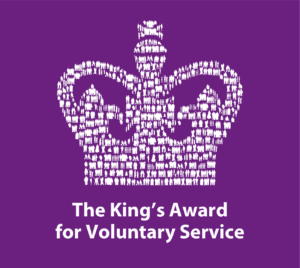 We're incredibly excited to let you know that the amazing volunteers at The Cavalier Centre have been honoured with the King's Award for Voluntary Service – the highest award a voluntary group can receive in the UK.
The Centre will receive the award from Lord Lieutenant of Shropshire. The formal process will include the reading of the citation and passing over of a Certificate and Crystal award signed by His Majesty The King at an event in 2024. As part of the KAVS, two volunteers will be given the opportunity to attend The King's Garden Party later in the summer.
Selina Graham, The Cavalier Centre's Chair of Trustees said: "It is not only the very hands-on trustees, but all of our volunteers who provide a totally exceptional and wonderful experience to all the people who take part in our activities. They're an incredibly dedicated and passionate team who support the Centre and each other, as well as caring for our horses in all weathers, 365 days a year. It's amazing to see how they provide moments of joy to people of all ages. Their impact cannot be underestimated.
Rachel Lambert-Jones, The Cavalier Centre's Manager, said: "Every day, when I see how hard our volunteers work, I am inspired by their caring nature and their resilience and dedication. They are truly inspirational. We are grateful to each and every one of them."
Sign Up To Our Newsletter
Join the Cavalier Centre grapevine and be the first to hear about news and events